The Balladonia Hotel Motel is a great place to stop and stay. We're located on the Eyre Highway and provide a vital rest stop for travellers heading across the Nullarbor. Our motel features 27 three star guest suites, backpacker accommodation, caravan and camping spots. We provide a range of onsite facilities that our guests are free to use at their convenience.
Restaurant & bar
Our à la carte restaurant is open every night of the year and offers guests a great selection of hot and cold meals, made fresh daily. Our fully stocked bar is open from 5pm until late and is a great place to relax, have a game of pool or darts, or chat with our friendly staff.
Pool & outdoor entertaining area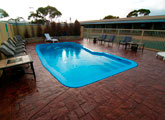 Guests can enjoy our private entertaining area, equipped with a well maintained BBQ and sparkling below ground pool. There's a great playground for the kids and a few shady trees for you to relax under while taking in the stunning outback view.
Service station & shop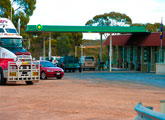 BP Balladonia is open from 5:30am to 9:30pm, 7 days a week, 365 days a year. We have a fully serviced shop and cafeteria onsite offering hot and cold meals and a range of snacks, souvenirs and basic necessity products. All fuels are available, including BP Ultimate, Unleaded 91, Diesel and LPG.