The Balladonia Hotel Motel restaurant is the perfect place to relax and enjoy a quiet meal. Just a few metres walk from the main accommodation wing, our restaurant is the gathering point for guests from all over the world, and quite a few locals. Finish off a day exploring the Nullarbor with a delicious meal in a relaxed and friendly environment.
Enjoy a night out
With a collective mixture of the outback and a tastefully decorated restaurant, featuring casual alfresco dining the atmosphere is warm and inviting. Our friendly staff will treat you to the very best of outback hospitality.
Our meals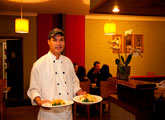 All of the meals on our à la carte menu are prepared fresh each day. We provide our guests with genuine and honest home cooked fare with a distinctly Aussie twist. Our chef and kitchen staff can cater for all tastes and most dietary requirements, including vegetarian options.
Bar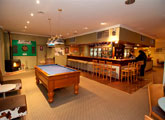 Our fully licensed bar is a great spot to enjoy a pre-dinner drink, play a game of pool or have a chat with our staff and locals. We have an impressive selection of beverages including imported and local beers, spirits, cocktails and Sandalford wines.